New Patient InformationTo find out if you are a candidate for bariatric surgery, start by checking your Body Mass Index – BMI.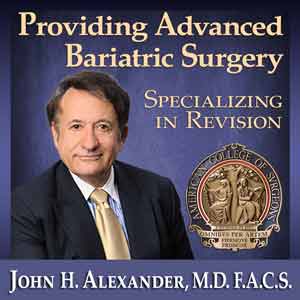 Dr. John H. Alexander, M.D., F.A.C.S., is a bariatric doctor and bariatric surgeon practicing in Dallas, Texas. Dr. Alexander is board certified by the American Board of Surgery (ABS), a Fellow of the American College of Surgeons (ACS) and a member of the American Society for Metabolic and Bariatric Surgery (ASMBS). Dr. Alexander is a developer and pioneer in the field of obesity surgery and has performed successful bariatric surgeries since 1991. Dr. Alexander has the experience and advanced training needed to offer a safe and effective surgical weight loss program. Safety is #1!
Serving patients from throughout Texas and the United States | New Patients Welcome
The Alexander Center for Obesity Surgery is dedicated to helping people take control of their weight in order to live healthy lives. Using the latest surgical weight loss techniques we have helped countless people improve their health in order to live longer and enjoy life more.*
Bariatric surgery is a personal decision that only you can make. Generally, bariatric surgery is recommended for patients who have unsuccessfully tried diets, exercise and nutritional counseling — and who are committed to making lifestyle changes.
Certain health conditions, however, may qualify you as a bariatric surgery candidate.
Have a body mass index (BMI) of more than 40. Men and women who are more than 100 pounds overweight.
Have a BMI of 35-40 with an obesity-related condition such as diabetes, high blood pressure, high cholesterol, heart disease or sleep apnea.
Can't achieve sustained weight loss with only diet and exercise.
Are committed to lifestyle changes in diet, exercise and behavior.
Are committed to lifelong follow-up medical care.
Dr. Alexander has successfully and safely performed many surgeries. Bariatric procedures are considered major surgery, and you must consider the risks and long-term health benefits.
Bariatric surgery may help you reduce or eliminate some diseases such as:*
Table: Health Improvements After Gastric Bypass Surgery
| Health Problem (Comorbidity) | Result After Gastric Bypass Surgery |
| --- | --- |
| Type 2 Diabetes | Resolved† in 83.7% of patients. |
| High Blood Pressure | Resolved in 67.5% of patients |
| High Cholesterol | Improved†† in 94.9% of patients |
| Obstructive Sleep Apnea | Resolved in 80.4% of patients |
| Acid Reflux/GERD | Resolved in 98% of patients |
| Depression | Improved in 47% of patients |
| Osteoarthritis and Joint Pain | Resolved in 41% of patients |
| Stress Urinary Incontinence | Resolved in 44% of patients |
† In medical terminology, "resolved" is defined as removing all known symptoms and signs of the condition or disease.
†† In medical terminology, "improved" is defined as reducing the known symptoms and signs of the condition or disease.
To read more about the benefits of weight-loss surgery, visit the Weight-control Information Network (WIN) website, a national information service of the National Institute of Diabetes and Digestive and Kidney Diseases (NIDDK) of the National Institutes of Health (NIH), which is the Federal Government's lead agency responsible for biomedical research on nutrition and obesity.
OFFICE LOCATION | The Alexander Center
11970 North Central Expwy, Suite 600, Dallas TX 75243

Phone: (972) 247-7767 | Fax: (972) 247-6268
HOSPITAL LOCATION | First Baptist Medical Center
8111 Meadow Rd, Dallas TX 75231

Phone: 469-329-3700 | Fax: 469-232-2340
Nearby Accommodations
*Corporate Rate Available
*Results may not represent typical surgical outcomes. Every surgery and each patient undergoing bariatric surgery represents unique sets of circumstances and, therefore, results will vary.