Sleeve Gastrectomy – Laparoscopic Gastric Sleeve
Gastric Sleeve | Sleeve Gastrectomy | LAP-BAND® to Gastric Sleeve Revision – Different weight loss procedures are best for different types of patients, and Dr. John Alexander performs several different procedures in order to meet the needs of as many patients as possible. The Alexander Center for Obesity Surgery, serving the Dallas / Fort Worth area, offers a laparoscopic weight loss procedure called sleeve gastrectomy or gastric sleeve surgery. This state-of-the-art procedure offers important benefits that make it a better choice than laparoscopic gastric bypass or LAP-BAND® surgery for many patients.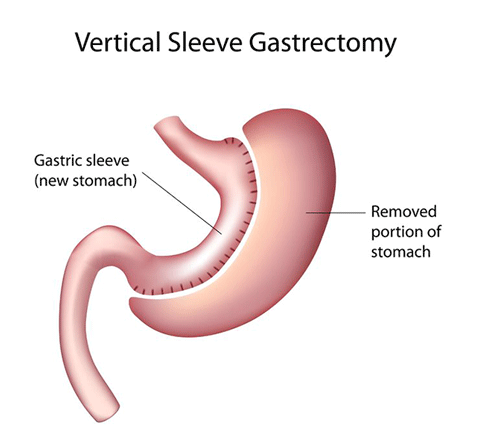 Advantages of Sleeve Gastrectomy
Sleeve gastrectomy, also known as gastric sleeve surgery, is a remarkable new procedure that boasts several specific advantages over other types of laparoscopic weight loss surgery. Unlike LAP-BAND® surgery, a sleeve gastrectomy does not involve the implantation of a foreign object in the body, and it does not need adjustment or filling after surgery.
Because Dr. Alexander does not disconnect and reconfigure the intestines when performing sleeve gastrectomy for Dallas-area patients, the procedure is simpler than other laparoscopic weight loss surgery options, with lower risks and fewer side effects.* Patients who are too overweight to safely undergo a gastric bypass procedure can often undergo gastric sleeve surgery first, and later have a complete gastric bypass after losing some weight.
About Gastric Sleeve Surgery
At his Dallas / Fort Worth practice, Dr. Alexander performs sleeve gastrectomy, or gastric sleeve surgery, by making an incision along the length of the stomach, removing a large portion in order to reduce the volume of the stomach while leaving the esophagus and intestines attached. Sleeve gastrectomy is a laparoscopic weight loss surgery, so patients typically recover more quickly, experience less discomfort, and are left with less noticeable scars, making the transition to life after surgery as smooth as possible and allowing patients to focus on losing the weight.*
Once the gastric sleeve surgery is complete, the stomach is about the size and shape of a banana. This smaller stomach holds less food, helping patients feel satisfied with smaller portions so that they eat less and lose weight. In the end, the results are impressive: Visit our gallery of weight loss before-and-after pictures or read testimonials from our patients in the Dallas area to witness the potential of laparoscopic weight loss surgery.*
*Results may not represent typical surgical outcomes. Every surgery and each patient undergoing bariatric surgery represents unique sets of circumstances and, therefore, results will vary.